"
A Case of Mistaken Secret Identity
" is the 85th episode of
DuckTales
.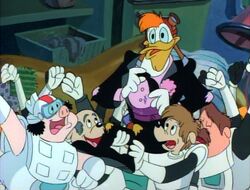 Huey, Dewey and Louie suspect Launchpad McQuack to be Gizmoduck, which offends Fenton. During a party in honor to Gizmoduck, most attendants dress as him, so the real one cannot prove his identity to show he isn't Launchpad. An accident happens with the fireworks and Gizmoduck takes them away, except for one that hits Launchpad. Seeing him as damaged as Gizmoduck should be by taking the fireworks away, everybody in Duckburg is convinced he is Gizmoduck (save for, of course, those who already know Fenton's secret).
During the following days, Launchpad enjoys the fame of "being" Gizmoduck, until the Beagle Boys capture him. Gizmoduck rescues Launchpad and convinces hum that making people believe he's Gizmoduck may be dangerous. However, as the Beagle Boys didn't see Gizmoduck and Launchpad at the same time, they are convinced he somehow freed himself and donned the Gizmosuit. This has the Duckburgians even more convinced that Launchpad is Gizmoduck.
Launchpad decides to confess on national TV that he isn't Gizmoduck, but when he says the idea is "as my friend Fenton says, blabberin' blatherskite". As M'Ma Crackshell is watching the declaration on TV, the TV speaker transmits the password to the Gizmosuit which goes where Launchpad is and turns him into Gizmoduck. However, as he is unaccustomed to the Gizmosuit, Launchpad makes some mistakes that end causing a flood, so he must be saved by an unarmored Fenton.
Days later, Huey, Dewey and Louie have noticed that, after Launchpad's clumsiness with the suit, he cannot be Gizmoduck. Fenton is happy to know he's suspect number 2, right behind... Mrs. Beakley?
Memorable quotes
Edit
"I wonder if Cluck Kent ever had days like this..."
—Fenton after seeing the TV report affirming Launchpad as Gizmoduck