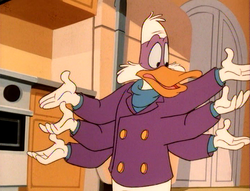 "Aduckyphobia" is the 28th episode of Darkwing Duck, and one of the episodes that originally premiered as part of the Disney Channel's spring preview for the series. It became the 23rd episode to air on the Disney Afternoon.
A mutated spider bite causes Darkwing to grow four extra arms. When this creates the hero trouble while trying to catch Moliarty, Darkwing adopts a new super-hero identity - Arachno-Duck.
"That does it. No arms of mine are gonna make a monkey out of Darkwing Duck! [suddenly takes out a banana with one of his six arms] Very funny."
—Darkwing
Home video releases
Edit
DVD
This episode's plot is a parody of the Spider-Man storyline "The Six Arms Saga", in which Spider-Man tried to eliminate his powers with a serum, but it instead enhanced his powers, causing him to grow four extra limbs.
For unknown reasons, this episode was removed from Toon Disney's rerun rotation in the early 2000s.