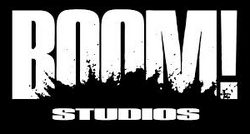 Boom! Studios is a comic book and graphic novel publisher headquartered in Los Angeles, California, co-founded by Ross Richie and Andrew Cosby in 2005. The BOOM! Studios imprint publishes full-color science fiction, fantasy, action, horror and super-hero titles. Additional imprints include the all-ages KaBOOM! label (formerly named BOOM Kids!) and BOOM! Town, which publishes underground comix and literature-focused comics.
Disney Afternoon comics published by Boom! Studios
Edit
In 2008, Boom! signed a deal with the Walt Disney Company to produce comic books based on their properties and secured newsstand distribution as part of their new kid-friendly imprint, BOOM Kids! This began with a series of books based on Pixar films and The Muppets in March 2009 and was followed up with Boom! acquiring the continued publication of Walt Disney's Comics and Stories, Uncle Scrooge, Mickey Mouse and Friends, and Donald Duck and Friends.
Eventually, starting in June of 2010, Boom! Studios began publishing a line of comic books based on the Disney Afternoon, marking the first new comics based on the show to be published in the United States since the cancellation of Slave Labor Graphics' Gargoyles comic book two years earlier. The first of these was a new Darkwing Duck comic. At around the same time, old DuckTales comic stories, most of which had never been published in the US before, were featured in issues 292-299 of Uncle Scrooge.
After the successful launch of the Darkwing Duck comic, new comic books based on Chip 'n Dale Rescue Rangers and DuckTales were announced. However, Boom!'s Disney Afternoon comics did not last long, as Disney pulled the plug on the license due to Boom! breaching their contract in numerous ways, such as cancelling The Incredibles on a cliffhanger. As a result, the Rescue Rangers comic was cancelled after eight issues in May 2011, while the DuckTales and Darkwing Duck titles ended at six and eighteen issues, respectively, in November 2011.
External links
Edit