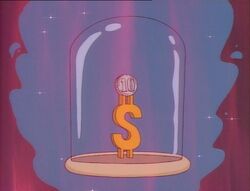 The Number One Dime, also known as the Lucky Dime or Lucky #1 Dime, is the first coin that Scrooge McDuck had ever earned, and his most prized possession. It originated in the Uncle Scrooge comic story "The Round Money Bin", written by Carl Barks and first published in Uncle Scrooge #3 (September 1953). Scrooge earned the dime as payment for shining a ditch-digger's boots when he was ten. However, since it was an American dime and he lived in Scotland at the time, Scrooge realized that the person had actually cheated him out of payment. Scrooge originally kept the dime on him as a reminder that, in his journey to become the richest duck in the world, there would always be people who would try to cheat him. Ironically, many writers, including those who worked on DuckTales, tend to portray the dime as a good-luck charm for Scrooge.
Although Scrooge keeps the dime due to its sentimental value, it actually has a power that he himself is unaware of. In almost all of her appearances, Magica De Spell tries to steal the dime, intending to have it melted down into her amulet. This is because, being a piece of money belonging to one of the richest people in the world, it is a key ingredient in a spell that would grant Magica the Midas Touch.
Appearances in DuckTales
TV episodes
Comics
Video games
External links
Community content is available under
CC-BY-SA
unless otherwise noted.