The following is a list of references to other Disney media (such as the animated features) in Disney Afternoon shows.
"To the Rescue"

Donald Drake and Plato's names are obvious nods to Donald Duck and Pluto, both of whom frequently co-starred with Chip 'n' Dale in their cartoon shorts.
Percy mistakes Dale for his gun and attempts to fire, prompting Dale to shout out, "Bang bang!" This is a reference to the 1954 Chip 'n' Dale cartoon short The Lone Chipmunks, which used the same gag.
The ship in a bottle that Monterey Jack manages to save from sinking near the end of part two is reminiscent of the 1956 short Chips Ahoy.

"One-Upsman-Chip" - While danging Dale over the piranha tank, Fat Cat sings to the tune of "I've Got No Strings" from Pinocchio.
"Gadget Goes Hawaiian" - Chip and Dale accidentally kissing each other when trying to kiss Gadget at the end of the episode is a nod to the ending of the 1952 Chip 'n' Dale short Two Chips and a Miss, which also ended with the same gag.
"Film Flam" - The character of Andy Ape is a parody of Roger Rabbit from Who Framed Roger Rabbit, with a similar design and speech impediment. Additionally, his cartoon short that the characters watch is very much like the Roger Rabbit shorts.
"Just Us Justice Ducks" - Negaduck says "Now it's time to say goodbye to all our company!", a line from the closing song of The Mickey Mouse Club.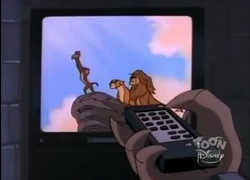 "Awakening" - When Hudson is channel-surfing, a brief glimpse of the opening scene from The Lion King can be seen on the TV.
"Can't Take a Yolk" - E.Z. Smith uses the same character design as (or possibly is) Leslie J. Clark from the 1945 Donald Duck short Duck Pimples.