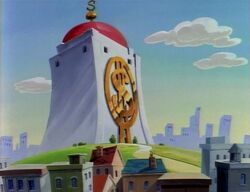 The Money Bin is a large storage building where Scrooge McDuck houses his three cubic acres of cash. Scrooge has a great affection for his money, and his favorite hobby is to dive and swim around in the money in his bin. The building and the surrounding lot are full of booby traps, burglar alarms and other contraptions to fight off Scrooge's countless uninvited guests, like panhandlers, beggars, door-to-door salesmen and, most importantly, crooks who try to break into the Bin (most often the Beagle Boys). It was originally featured in the Uncle Scrooge comic book stories created by Carl Barks. It has also been featured in many of Scrooge's animated appearances, including DuckTales.
Community content is available under
CC-BY-SA
unless otherwise noted.